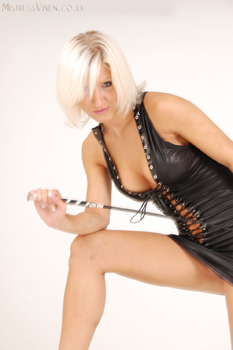 My name is Mistress Vixen, I am an established professional Dominatrix based in Derbyshire. I've featured in videos on my clip store http://clips4sale.com/27428, and for Cruella, The English Mansion, Femme Fatale Films, Woman Worship and many others. I have a reputation for being beautiful whilst still approachable, harsh and challenging, though still humorous and caring.
I am happy to push experienced subs hard, making they experience the extreme pain and humiliation they so desperately crave and deserve. However, I am hugely experienced at nudging new comers through their first timid steps in the wonderful world of Femdom – usually they are surprised how far they go whilst trying to impress me.
I started at Cruella as a photographer, I enjoyed that my enthusiasm for dominance and power grew. I was lucky enough to be offered a place on a shoot, I wasn't always as confident as I am now with a whip!
I expect openness, honesty, and sincerity. I expect every client to have a genuine desire to explore their submissive side with Me and to be mentally and physically willing to do so. They must be emotionally healthy and have respect for themselves and myself. Age, size doesn't bother Me. Seeing a male grovel and suffer for Me does it for Me!
Trust is a big thing, if you are tied up, you're pretty powerless, if I walk on Your chest with heels like 6 inch nails I really could pierce your heart. If I cut the blood off from your pathetic balls for too long they will drop off. Slaves have to trust me, and I am trustworthy with a great deal of experience. It might hurt a lot, but you are safe with me!
I give slaves the safe word Strawberries. Safe words are important but I do like to push slaves, in most sessions I would like to hear it once, or at least get close to hearing it. If slaves are reasonably communicative I probably know before You when it is going to come spluttering out.
Though many of you are intimidated by Me having watched My videos, one of the things I am most often complimented on is My approachability. When slaves summon up the nerve to come and see Me in person a great many comment on how "normal" and approachable I am. Sadly some of your pathetic male brains struggle with that, yes I am approachable so long as the approach is appropriate and respectful, yes I enjoy your adoration but no I am not going to fall in love with You and no I don't want to chat all day, and no you can't have a session for free! Submitting to Me isn't a weakness, it is just knowing your correct place in life. Certainly during a session I am happy to work on your weaknesses, and most of you have many! I do appreciate what My submissive's do for me, but only so long as they are doing it for the right reasons. They need to be doing it to help and support me, not for what they think they may get out of it.
http://www.mistressvixen.co.uk/